Award winning boutique skippered sailing cruises

Perfectly equipped yachts
Sail with the amenities of a floating hotel. Browse in real time through our certified boat range. ISO standards and Lloyds certification. No experience is required. Just select the dates and leave the rest on us!

Premium professional crew
Our local, English speaking professional skippers honor hospitality in the Greek islands. Sail with them 'off the beaten path' away from the tourist traps, in a unique journey you will remember forever.

Custom itineraries
Create a route according to your preferences. Hundreds of positive genuine reviews! Dedicated travel assistant always free of charge. Unique trip planning with no hidden fees of surprises. Ask for a Sur-Mesure proposal
Main benefits of our private skippered cruises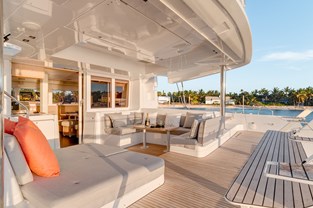 5 star quality yachts
Constantly refitted, our private fleet is yearly inspected and certified by the Lloyds registry. Attention to detail offering 5 star hotel amenities supervised with ISO standard procedures.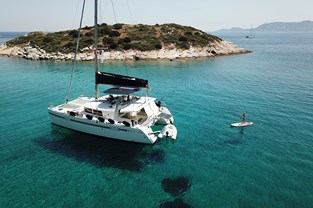 Sail "off the beaten path"
Experts in the Greek seas, our professional skippers will be your host in this unique vacation. Custom routes based on your preferences, meet Greece as a real traveler away from the crowds and tourist traps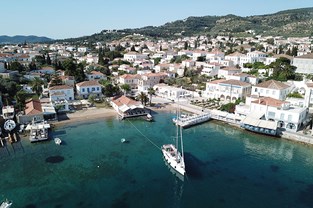 Financial Guarantee - Reliability
Operating since 1999, financially approved by the German VDC, comprehensive cost breakdown in all offers without any hidden fees or surprises. Direct communication, licensed Tourism ministry member
Sailing Greece Summer 2022!
What's included
Included
Your sailing yacht

Outboard and dinghy

Bed linen for all guests

Full galley equipment

Full set of Towels, beach towels and tea towels

Hifi and cockpit speakers along with aux input

Comfortable cockpit cushions

Snorkeling equipment in customized sizes

All safety regulations equipment

24h support line during charter

Weather forecast report

Trip planning with tips and suggestions

Generator & A/C (depending on the yacht model)

3G Internet onboard for all your trip
Read more
Extras
Skipper (add during booking 1330 Euros/week)

Hostess (1330 Euros/week)

Stand Up Paddle (150 Euros/week)




Inflatable Canoe (80 Euros/week)

Underwater cameras (50 Euros/week)




Action cameras (70 Euros/week)

Safety crib (50 Euros/week)

Fishing rod (50 Euros/week)

Shopping onboard (free of charge)

Portable Bicycle (100 Euros/week)
We are happy to hear any request you may have in order to have everything set for your sailing cruise in Greece
See the extras
Described as 'Impeccable Organisation' - 5 Star TripAdvisor rating -Read the reviews

We were dealt a Royale Flush on the 
Casino Royale
 catamaran in the Greek islands. 
Yachtsailing.gr
 made the transition from our hotel to boat a breeze by Eugene and his staff. We got greeted by our Captain Haris and our Hostess Vicky with a very warm welcome. They were very informative and accommodating from the get go. Their was nine of us renting the very comfortable catamaran, The Casino Royale. Each day Captain Haris took us to a beautiful spot to eat a fabulous Greek lunch cooked by our Hostess Vicky. Every morning we woke up to the smell of fresh coffee and a hot Greek breakfast. Each night we'd dine at whatever port we sailed to. Captain Haris was very entertaining and shared some great stories of his sea experience. Vicky, our hostess was an amazing Greek family style cook. She took great attention to pleasing everyone's needs and was kind enough to share her recipes with me. By the end of week we all felt like one BIG GREEK family. All nine of us agreed we were so happy that we chose to have a Captain and Hostess because it made it truly a vacation. Haris and Vicky took care of all the connections and knowledge to navigate this trip. It was a trip of a lifetime!
"The Royale Flush on the Casino Royale!"
From day one our captain Theodore set the tone with his wit & humour! Travelling the Saronic Golf we as a family were excited to set sail and get a taste of Greece from the ocean. We were impressed by the level of flexibility the company offered with visiting our relatives throughout the trip. We made unique stop overs to swim, visits to secluded beaches and bars, and even had a choppy day on the water which was both scary and hilarious ! Our skilled captain Theodore made all this possible and by the end of the trip he truly became a friend to us all ! Would like to thank Yacht sailing Greece for this amazing time, and also Theodore for being fun and adaptable to all our needs throughout the week ! 10/10
"Highlight of our trip in Greece ! - The Big Deal"
Just spent a magical week cruising around the Cyclades with captain George Maleas and our group of three couples. Having never done a trip like this before, we had lots of questions that were patiently and thoroughly answered by Eugene via email in the months leading up to our departure. Joanna was also helpful and kind while helping us with transfers, boat provisioning, and payment. We couldn't be happier about our amazing experiences with yachtsailing. Everything far exceeded our expectations from the quality of the catamaran to the places we visited to our knowledgeable captain. George really knows these islands well and took us to some beautiful coves for swimming and quintessential little island villages for exploring. We visited Poros, Milos, Kimolos, Serifos, and Kythnos and each island was more beautiful than the last. Thank you, George, Eugene, and the entire yachtsailing team for an unforgettable experience! It was a trip of a lifetime!
"Unforgettable Experience!"
One week trip in Saronique Islands and Cyclades (Kythnos and Kea) We loved our skipper and hostess (Harris and Vicky). Thanks to them, we had a fantastic Week on our catamaran (blue Lagoon 50). - we felt in very good hands with Harris (ex-captain in Greek Navy) and in total safety (we had 6 kids on board) - Vicky was an excellent cook, always keen to accommodate everyone's wishes (including two people eating gluten free, being Coeliac, one vegan, and many meat lovers :-) !) They worked hard during the whole week, anticipating our needs, listening to us and showing great flexibility to make sure we make the most of our cruise Organisation by 
Yacht Sailing
 was perfect. Alex kindly and promptly organized our transfers , advised us/ booked a nice restaurant in Athens ... if you want to sail in Greece, do not hesitate to go through 
Yacht Sailing
 as a company and Harris and Vicky as skipper /Hostess 
"Excellent"
Outstanding experience! The boat, the service, Joanna and Eugene and their customer service! We had 4 adults and 5 kids ages 5-12 on the 54ft sail boat, and it was amazing! My wife who has always been afraid of the water is now demanding to do it again next year! And we will. And the skipper was great, made us all feel safe. Can't wait to do it again with the same company!
"2 families from NY with kids"
These folks are the best. We could not have been more pleased. Eight of us took an Oceanis 54 ("BlackJack") on a seven day trip around the Cyclades. The boat was fabulous, the skipper was amazing and the islands were beautiful. Most importantly, from day one and our first communication with them, we felt totally confident dealing with these folks. Maria, Dimitris and Eugene are the consummate professionals. They are warm, knowledgeable and extremely helpful. As sailing neophytes, we knew nothing, and they went out of their way to make our whole experience an absolute joy. We had the best vacation and I could not recommend them more highly. I can't wait to do it again.
"The best vacation...what an experience!"
In January, our family (a group of 8, all adults) decided to go on a sailing adventure in Greece. We received a quote from Eugene at Yachtsailing.gr for several sailboat options. After emailing with Eugene back and forth a few times, it was clear that she was honest, kind, and professional. To make a long story short, she put in so much extra work to ensure that our trip (7 days in the Cyclades) was incredible. Throughout the entire planning process, she was supportive, helpful, and flexible. I would recommend taking her advice at every opportunity- she is very knowledgeable.
When we arrived at the marina, it was clear that we chose a fantastically well-run company to work with. Joanna and Eugene greeted us at the marina, and they were both highly professional and personable.The sailboat that we chose (Beneteau 54) was in excellent condition and was very clean. The yacht was beautiful, and the pictures that we had seen on their website were accurate. It was a good size for us; we had 8 adults and we all slept in pairs in the 4 sleeping cabins, and our skipper had a separate cabin. I am convinced that George, the skipper they paired us with, is the greatest skipper out there. He was exactly the type of person that you would want to take you anywhere, and was gracious, trustworthy, intelligent, and extremely capable! The people who work with this company are the type of people that you will want to stay in touch with, and I hope that we get the chance to sail with them again. We felt safe and cared for and I could not recommend this company highly enough.
"Amazing staff go above and beyond to create your dream sailing adventure!"
What inspires you? Many things provide inspiration-seeing success stories and big accomplishments, hearing great person's inspirational ideas or just the naked beauty of nature that will remind us how lucky we are to be alive.Escape the traffic and enjoy the perfect serenity only sailing skippered charters can provide. Private sailing skippered charters in Greece gives you the freedom to enjoy the beauty of the Greek islands at your own pace, sail as much as you want and whenever you feel like it. There is no other vacation identical to a sailing cruise. You are seconds away from the sea, onboard a floating home. If not you then who? If not now, then when? Still not convinced? Visit Greece with our sailing skippered charters and enjoy a vacation paradise.
Experience sailing vacation with a captain
Practical information on our skippered charters
Let me just point out some of the main characteristics of a skippered charter in Greece. Your yacht will be waiting in our home port, in Athens (Alimos marina) and will be ready for departure at your signal. For those of you that are visiting Greece for the first time we provide the ability to have a daily city tour in the city of Athens and visit the Acropolis and many other interesting sightseeing which have brought Athens in the first place of the global ranking in terms of historical interest. You captain will be on standby to serve you in the best possible way and sail you to the most efficient locations in accordance to the weather.
All of our skippers are licensed and fully trained to provide, professional and high standard services to all of our guests. Most of the times the skipper acts as a guide not only for the sailing part but also in the Greek islands. He will be heading you to choices known only to locals rather than the most touristic ones usually found in the front window of the islands. In most cases all of our guests invite our captains to share stories, moments and experiences together, while having dinner in various traditional tavernas. Meet our skippers in our separate detailed page with our crew profile information along with photos and comments.
In most of the cases our guests select to have onboard one of our hostesses. A hostess can prepare breakfast and dinner according to your taste preferences while she could be helping you in keeping the boat clean and in order. A hostess is also a great help if you are having young children onboard and you like to spend some time of free moments. She would be sharing some of the time to keep the kids occupied while you will be having a swim and enjoying your free time.
Most of our departures take place on Saturdays and operate on a weekly basis. This means practically that you can sail on Saturday and you will be returning on Friday afternoon, spending the time onboard having a cocktail or visiting the city center (check here how to explore athens sightseeing) while the next Saturday morning you would have to disembark (if we are talking for a one week cruise).
People wonder if a week is enough.. Well this depends on two main principles:
a) Where you plan to go and what you have in mind in exploring: To my opinion when you are on sailing vacation you need to consider various factors to have the best sailing experience. One would be to take under consideration how much would you like to sail per day. And when I mean you, I am talking about all of the crew. Many times women and children are less experienced and would not prefer to sail more than 2 hours per day-at least the first days of their vacation. This is something you need to take under consideration in order to prepare a successful route. The second would be the weather. You need to understand that the best vacation is a combination of weather and location. The most beautiful bay combined with an unpleasant weather does not add up to the best result. RELAX! That is the strong advantage when sailing from Athens. That is, you have the possibility, according to the weather, to plan a route that will be compatible with the nature conditions at the time of your arrival. In case of very strong winds you can sail in the marvelous Saronic gulf that is always calm and fully protected, while your skipper will take you to calm and isolated bays. On the other hand if you enjoy sailing you have the possibility to sail to the Cyclades and visit this complex of islands among which are, Mykonos, Paros and Santorini. If you are planning to visit Santorini, I would suggest that you would need a two week sailing skippered charter since you will need to cover a lot of miles for a one week trip.
b) The number of islands you want to explore: Again, my idea is that you are on vacation! Greece has approximately 2500 islands. There is no way that you will be visiting all the islands in just a single trip. Our suggestion is to enjoy the moment and spend as much time as you feel like it in every place. There is no harm done if you are having a great time in Milos, to leave 'because the program says so'.. This is why a skippered charter in Greece is the ultimate vacation option. You have the freedom to sail, to stay anchored, to swim or to do as you please depending on your desire. Therefore, seize the moment and look around you. This is what vacation is all about! To lose the track of time and enjoy pure emotions and heartbeats.
Normally in a weekly sailing cruise you should be visiting aprox 6 islands during your trip. For some of you this is not sufficient, however this depends on the time that you have available for vacation. It is logical that the more time you have available the more islands you could explore. Moreover the weekly sailing charter is perfect for those of you visiting Greece for 10 days where you can still have some time to visit Athens and the suburbs nearby. For us the ideal length of a skippered sailing cruise in the Greek islands is a period of 2 weeks. This is simply because you may have more options in terms of more islands to visit-more than 12, flexibility according to the weather, availability to relax in an island for more than 1 day and many others. If you are one of the lucky ones who will get the chance to have 3 weeks available for their vacation then we can guarantee you will losing the track of time and you will have a great experience to remember.
As mentioned previously the key concept of our private skippered charters is that we will spend time with you to choose exactly the itinerary that matches to your expectations. It is not just a fixed route to follow with predefined stops. Of course we know the 'must see' locations and we will put them on the table during our sail planning, but one thing is certain. You will experience the island hopping (click to see how to do island hopping in Greece), a lot of swimming and diving in different bays and crystal waters will yacht will provide you with all the amenities of a hotel. Furthermore during your island hopping you will have the chance to discover why each of the Greek islands, is unique. Most of you may be familiar with Mykonos and Santorini but trust our word, there are equally beautiful islands such as the famous ones, such as Kythnos, Serifos, Sifnos, Milos, Paros, Antiparos, Kimolos and many others. Each with unique history and places to visit as well as different cuisine recipes.
According to the above we will determine the best route for your preferences and will be sailing to the first island shortly. A good tip is to have a shopping list, which we offer as a free service, this way you will be having all of your shopping onboard when you arrive and you will save energy not waiting in the lines of the local supermarkets.
In addition you have the possibility to ask for some of our optional extras. Among those you will find internet connection to have onboard during your trip, stand up paddles for those of you that are more active or you wish to keep your younger kids occupied, two-seated canoes that we guarantee that will cause a lot of laughter and action or underwater cameras to capture your adventurous moments.
Once you set sail, this is it. You are on sailing vacation. Your captain will be glad, for those of you that want to acquire some knowledge, to show the basics around sailing and navigating. This is mainly interesting for children but for adults as well that would like slowly to get familiar with what sailing is all about. Moreover in just about couple of hours you will be relaxing in the middle of a beautiful bay making plans on where to have dinner or walk in the little white stripped alleys throughout the islands.
Since we mentioned dinner, with a skippered sailing cruise you have the choice whether to have lunch or dinner onboard or in every island you may reach. In the islands there are the typical local restaurants called 'tavernas' where you will taste traditional food (check this article for greek food you are going to taste in greek islands - videos included) based on local ingredients and cooked with different recipes in each island. Each location is famous for a specific ingredient and product while there are famous recipes for different islands. A tavern is not a must if you are looking for something super fancy but we highly recommend trying this type of restaurant during your trip. Most of them are placed right beside the sea so you will most probably tasting the delicious meals while the little waves will be passing by next to you. The other choice is to cook onboard-your yacht is equipped with a fully functional galley which operates with gas and has 2-3 burners available plus an oven with a grill. If you have a hostess onboard then most probably in the morning you will decide what type of ingredients you would prefer for the day's dinner and she would prepare everything to be ready for the day. In the islands there are super markets with super fresh material so we are quite certain that you will be more than happy with the result.
All of the above consist a super-premium vacation type. The type that you would probably pay a fortune to have as a result. But still, the skippered charter we offer in Greece is the most affordable vacation type someone could ask for. The value you will be getting for your money is incomparable to any other vacation type. If you compare the price of a skippered charter to a typical stay in one local hotel for a week you will notice that there is a huge difference to the service and experience you will be getting compared to the amount you will be paying. Moreover, you need to appreciate there is no other vacation that would allow you to wake up and dive into the most immaculate clear blue waters in just seconds.
For those of you wondering how easy it is to book a skippered charter in Greece with Yachtsailing.gr we answer at once. VERY EASY! Just select the dates (you will find at the top bar on your browser) you will be visiting, let us know the number of guests on board, add the skipper and that's it. Your sailing dream has just started. We encourage you to contact us via email in case you would like some clarifications and suggestion on possible questions you may have. We expect to see you onboard soon.