GO BACK TO BLOG
Island-hopping in Greece: A Catamaran Adventure in the Saronic Gulf
Greece is blessed with breathtaking beaches, sunshine, and a huge variety of landscapes, archeological sites, impeccable cuisine, and interesting activities for those visiting her beautiful lands. Many have heard of the Cyclades, Sporades, and islands such as Rhodes, Kos, and Crete. Greece has thousands of islands, 227 of them are inhabited which attract the interest of people from around the globe. With so many options it can be a daunting task to decide which is best for your vacation. Although you should have a great time no matter where you choose to go, we will include a little secret that not everyone knows about. The Cyclades are famous around the world especially in regards to the islands of Mykonos and Satorini. For this reason many usually overlook or don't even notice the absolutely gorgeous combination of islands and port side towns scattered in and around the Saronic Gulf with a Catamaran charter.
========================================
Book A Greece Catamaran Charter here!
========================================
These gorgeous locations are not only in close proximity to the mainland, but they are also perfectly suited for an extremely pleasant and interesting yacht sailing vacation. When sailing in this area you will have relatively small distances to cover when jumping from one island to the next, making it easy to visit multiple locations during your sailing adventure of the Greek Islands. Another factor which is extremely beneficial, is the fact that the Saronic rarely experiences rough sailing conditions seeing as it is surrounded by the shore of Attica from the North and the Argos peninsula which covers the Eastern coast of the Peloponnese. This creates shelter from large waves which can be important to families with young children and those looking for less stressful sailing conditions.
This is a major advantage in comparison to the Cyclades which often experience large swells and waves, especially during the months of July and August when the Meltemi is usually at its peak. In the rare instance that they do experience some extreme conditions most of the islands in this group provide excellent shelter from all wind directions. For instance Poros and Spetses all have bays which are well protected from the northern winds as well as pretty much any other direction. Guests can enjoy beautiful nights under the stars and awake to the pristine waters in the stunning natural surroundings which have provided their shelter. The fact that there is always a close location to dock when things get out of hand is an absolutely priceless advantage during a sailing vacation in the Greek Islands. It also means that getting stuck in a specific location due to high northern winds is extremely rare. Whereas if you are not careful with the locations you visit in the Cyclades this could be the case. The region also offers very pleasant temperatures and is a popular destination throughout May all the way to October.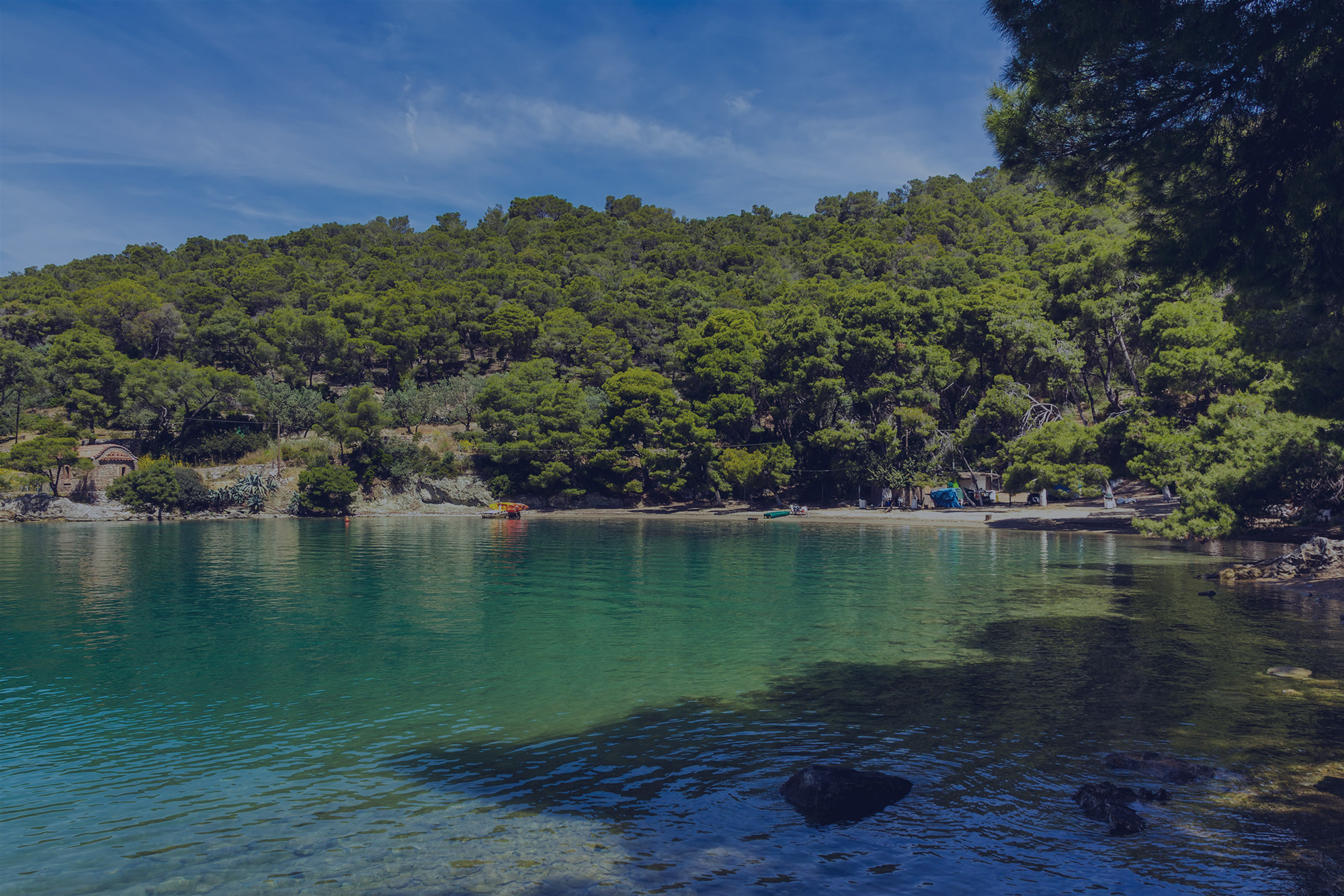 A typical itinerary when visiting the Saronic Islands would include the islands of Poros, Spetses, Hydra, and Agistri. You will also be visiting the beautiful port towns, or seaside villages of Nafplion, Ermioni, and Palaia Epidauvros.
Day 1: Poros
Day 2: Spetses
Day 3: Nafplion
Day 4: Hydra
Day 5: Ermioni
Day 6: Palaia Epidauvros
Day 7: Agistri/Athens
However seeing as this is a yacht sailing vacation nothing is set in stone and there could be various combinations or alterations to the list above. This will also depend on the duration of your charter.
Poros has a reputation for being one of the yacht friendliest locations in the country. It is filled with lush green pine forests, surrounded by crystal clear waters, and has an array of wonderful beaches for people of all ages to enjoy. The local taverns are known for the delicious traditional Greek dishes and fresh seafood and fish. There are also many lemon groves which the island has in abundance as well as other varieties of citrus fruits. Stand out points include its top class fish, affordable prices, great service and highly efficient road network making it easy to cover the island if you rent a car, quad, or bike. Expect to have loads of fun with family and loved ones when sailing around this island. There are countless charming little bays to explore and anchor for an afternoon or evening, taking in the exceptional scenery and enjoying the pristine waters present in this location. One of its main attractions is the town's clock tower, which one can see from pretty much anywhere they are on the island. It is an interesting hike up to the top, which can be demanding depending on the time of day you decide to visit. However once you reach the top, the view itself is a breathtaking reward for your efforts. Chances are you can see your yacht from here, taking a picture could make for great memorabilia of your vacation. Poros will surely be a great experience and although some may not want to leave yet, this is only the beginning of an awesome adventure.
Your next destination is probably the most cosmopolitan area you will visit in this region. Spetses has always attracted wealthy Athenians and ship owners to her gorgeous shores, this is especially true during the weekends. The island tends to fill up with many eager Athenians looking for a break from the mainland for a quick weekend getaway. Spetses has a rich naval history and played an important part in the war of independence. Laskalina Bouboulina is the most famous, and is a Greek Heroine which you can learn all about upon your visit to the island. The island is super green and has a variety of superb beaches all with immaculate waters for you and everyone to enjoy. When it comes to dining and food, you may select from a variety of different styles and price categories all suited to various tastes and preferences. Although it has many different venues offering a variety of cuisines, we always suggest you taste a local tavern and enjoy some of the traditional recipes and fresh fish. This way you are able to enjoy both worlds and get a taste of the local way of life. The season usually begins from Greek Orthodox Easter and runs all the way through to October. September is a great time to visit if you want to witness the Armatta, an annual reenactment of the islands greatest naval victory in 1822.
Directly on the edge of the Peloponnese facing towards the Argolic Gulf you will find Nafplion. This is modern Greece's original capital, and considered one of the most romantic towns in the country. This area should captivate the senses and take you on an enchanting journey back into the ages. Imposing fortresses, prisons, and a medieval castle all await your discovery in a place which seems to have been frozen in time. This area has a rich history and culture which will leave its imprint on you and everyone visiting. Explore the alluring cobblestreet alleys, enjoy the unique beauty of the town squares filled with cafes, restaurants, and interesting sights. Nafplion has many of its own delicacies such as its distinct shell shaped pasta served with butter and sage, as well as many local Greek products like honey and olives and a variety of nuts, figs, and some delicious cheeses. Don't miss out treating yourselves to a meal at one of the local taverns and exploring the many alleys all filled with pleasant surprises and interesting architecture.
Once you leave Nafplion your next destination will be Hydra. This is another island which played an important role in the 1821 War of Independence, contributing a significant amount of ships and resources in the fight against the Ottoman Empire. The island is blessed with one of the most beautiful and picturesque ports in the country. Gorgeous stone neoclassical buildings and mansions overlook the sea and populate the streets of this enchanting town. Once you arrive in the port it is impossible not to notice the canons pointing towards you from either side, providing a glimpse into the strategic locations and historical significance of the island. The use of automobiles is strictly prohibited, so one needs to become accustomed to seeing hordes of donkeys which are the traditional means of transportation. This creates a sense of serenity and safety that is easy to fall in love with during your stay on Hydra. Famous for the natural and calm atmosphere in the day, but also for the booming cosmopolitan nightlife enjoyed in the evenings. There is no doubt that this is one of the most sought out destinations amongst locals and tourists alike. It could be the deeply romantic vibes, or the unique architecture that draws all types of people from all walks of life to its shores.
Upon disembarking from Hydra you will shortly find yourself in the lovely seaside town of Ermioni. This gorgeous area is located in the south eastern region of the Peloponnese. It is well known for offering the same unique feeling and serenity of that which you will find on the islands. This region is famous for its super relaxed atmosphere, combination of interesting sights, and lovely beaches. Here one can enjoy the many traditional celebrations, excellent local cuisine and wine. This is the perfect location for relaxing and taking in the beauty of nature during your sails of the Saronic Islands. It is a very popular weekend destination for spending the day, weekend, or longer stretch of time.
As your awesome adventure begins to come to the end there are still quite a few surprises in store for you on this wonderful journey. One of these are Palaia Epidauros, where crystal clear waters meet the lush green forests stretching down from the mountains. It is here that the ancient world's most famous theater can be found. The town itself is not what you would call awe inspiring, and it is not fair to compare it to the likes of the islands. However with its own authentic character it provides a genuine Greek experience without false pretenses or facades. Seeing as this is a yacht sailing vacation one of the main highlights will be anchoring in the Epidaurus gulf surrounded by pristine waters and the incredible sights of nature and the mountains. Spend an incredibly relaxing evening underneath the stars before your final awesome island adventure before reaching Athens.
Your final island stop is the gorgeous, naturally beautiful and exotic island of Agistri. This is an exceptionally beautiful island covered in lush vegetation and greenery and some of the most amazing waters you will encounter during your entire journey around the Saronic Islands. This island definitely gives meaning to the saying less is more! Here the simplicity of life will be amplified and time will almost stand still, making your vacation feel just a little bit longer. Grilled octupus is a specialty on the islands and it is said that the opportunity should not be missed when visiting. 
Athens will welcome you with open arms for the final chapter of your journey. One of the most famous cities in the world and historical capital of Europe. The birthplace of democracy, science, arts and philosophy. A gorgeous metropolitan city with thrilling history and sophisticated infrastructure and facilities. With its excellent modern forms of transportation visitors will be amazed at the variety and quality of the activities available to enjoy. There is an incredible variety of stores and shopping centers to select from. The friendly attitude of the locals will welcome you when the time comes for dinner or a night out in town. The nightlife offers an incredible variety of dining options, nightclubs, cocktail bars, and trendy establishments. So there is no way anyone will get bored in a city that never sleeps. The first place on most people's bucket list is the Acropolis, which triggers the imagination while taking you on a journey back to the time of the ancient Greeks. Upon reaching the Parthenon witness the incredible views and vantage points of Athens from a birds eye view. This is truly a remarkable area with great historical significance and famous architecture.
Athens has a variety of museums which offer a wide range of exhibits and displays. Wonder through Plaka, the old town and enjoy getting lost in the many alleys leading to all types of interesting stores, cafes, and traditional taverns. This will probably lead you to Monastiraki which is a popular meeting spot amongst local Athenians. Its town square is famous for its busy vibe and lively atmosphere. Filled with intricate alleys with unique antique stores and other interesting things like old records and book stores. This area is extremely diverse and has trendy, fancy, low key, and interesting places to choose from. Finally Syntagma is where you find the iconic landmarks of the Greek Parliament Buildings and National Garden. Surrounded by luxury hotels, restaurants, cafes, and many options for shopping for all tastes and preferences. No matter where you land up in Athens, it's guaranteed to offer interesting sights and great places to sit, have a coffee or beverage and watch different people walk by.