GO BACK TO BLOG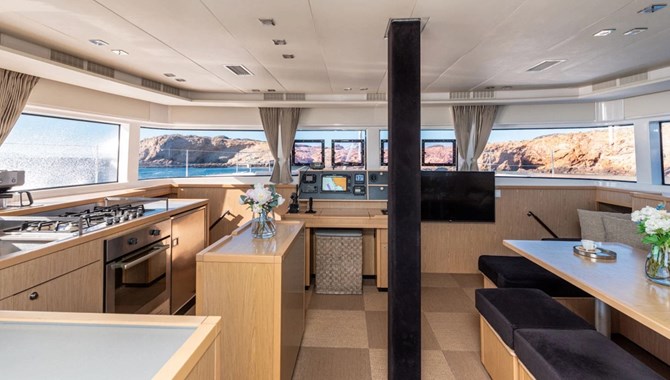 Enjoy a Crewed Catamaran Yacht Charter in Greece on our "Ace of Diamonds" Lagoon 52
At Yachtsailing.gr, we offer a crewed charter on our boutique yacht, "Ace of Diamonds". This crewed charter packages includes a captain, a hostess and a chef, who will make your experience on the water unforgettable. During your charter, you will be able to enjoy some of the most breathtaking views and explore hidden coves and beaches.
You will also have the opportunity to take part in various watersports activities, such as swimming, snorkeling, kayaking, fishing, and more. As well as explore the charming villages and enchanting alleys of the Greek Islands. Our experienced crew will provide you with the highest level of service and safety, ensuring that you enjoy a unique and unforgettable experience.
A crewed yacht charter is a great way to enjoy the beauty of the open seas while having the luxury of being taken care of by a professional crew. The crew aboard a crewed yacht charter can take care of all aspects of the trip, from setting sail to navigating the waters, preparing meals, and cleaning up after each excursion. A crewed charter can also be a great way to explore remote areas, a romantic getaway, and spend valuable time with family and friends. Whether you're looking for an adventure or a relaxing vacation a crewed yacht charter is a great way to enjoy the beauty of the Greek Isles.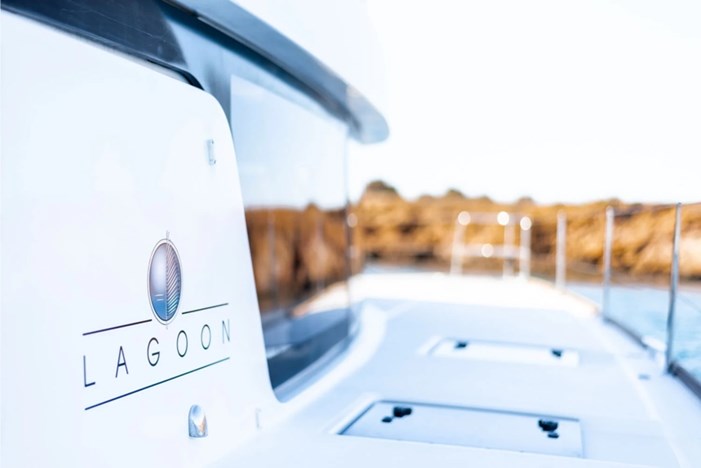 Our latest jewel is the "Ace of Diamonds" which comes with five cabins exclusively for guests, and it is equipped with all the amenities of a 5 star floating hotel! She has a huge, comfortable living space, and large fly bridge area to relax when sailing.
As well as a fast cruising speed, and unique forward lounge area to chill as you sail the seas. Depending on the length of your charter, this will be your home away from home for duration of your stay in our beautiful islands. The master cabin has a lovely skylight and is very spacious and comfortable. The boat is constantly refitted in order to meet our high quality standards and meet our client's demands.
Enjoy endless moments relaxing taking in the breathtaking views laying on the cockpit sofas and bow sunbeds. All our boats follow an enhanced cleaning protocol, and comply with a 5 step cleaning process.
The large refrigerators onboard will meet all your requirements and make sure your beverages are perfectly chilled at all times. Guest can expect powerful air-conditioning in all interior arears of the boat. A water maker is also available on board which produces 160lt/hr. of water, as well as an icemaker for those handmade cocktails to be enjoyed to the fullest.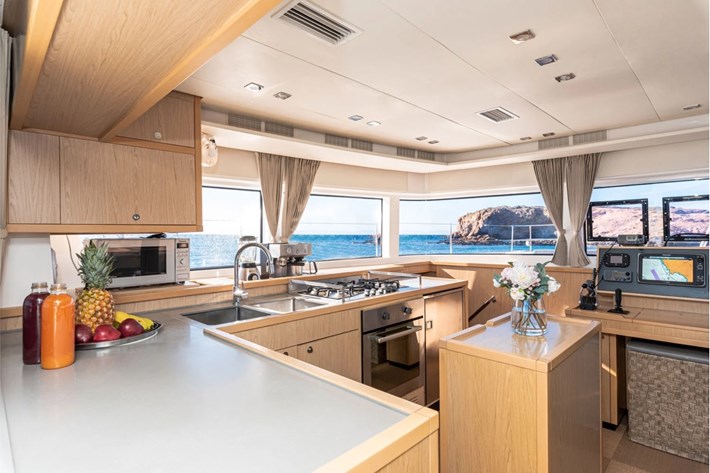 In terms of luxury, queen size beds and coco mat pillows are at your disposal providing the relaxation you would expect from any 5 star hotel. Carefully selected bed linen and towels from exclusive fabrics for maximum comfort are included in each cabin. Spacious bathrooms with separate shower areas, and separate skipper quarters for complete privacy.
Two stand up paddles are available for everyone's enjoyment, and a dinghy with outboard for venturing to shore.  Finally she is certified by the Lloyds registry and has yearly inspection protocols for the maximum security of our guests.
This type of vacation is a luxurious and unforgettable way to explore the country's stunning coastline. Guests can sail along the Saronic Gulf, visiting islands such as Hydra, Spetses, and Poros. These islands offer an array of activities, from swimming and snorkeling to hiking and exploring ancient ruins. Guests can also enjoy the delicious Greek cuisine, as well as local wines and beers. The crew will provide a professional, personalized services, ensuring that everyone has the best experiences possible.
The Cyclades is another destination guaranteed to take your breath from the start to the finish of your journey. With a variety of islands to explore, such as Santorini, Mykonos, and Naxos, visitors will surely enjoy exploring the beauty of these wonderful locations. Swim in the crystal clear waters, enjoy the delicious Cyclades cuisine, and experience the islands' many historical sights.
There are also plenty of activities to enjoy, such as sailing, fishing, snorkeling, and kayaking. So, if you are looking for a luxurious holiday, a crewed yacht charter in the Cyclades is the perfect way to explore the Greek islands.
No matter which areas you choose to visit, sailing the seas on your own personal terrace of the Aegean is a once in a life time opportunity. Let our professional crew members not only navigate you to the best areas and places. But also act as your dedicated hosts of the marvelous Greek Islands. Introducing you to the culture, hidden secrets, and the local way of life! So, book your crewed charter on the "Ace of Diamonds" today, and create a lifetime of memories on your very own Greek Odyssey!