GO BACK TO BLOG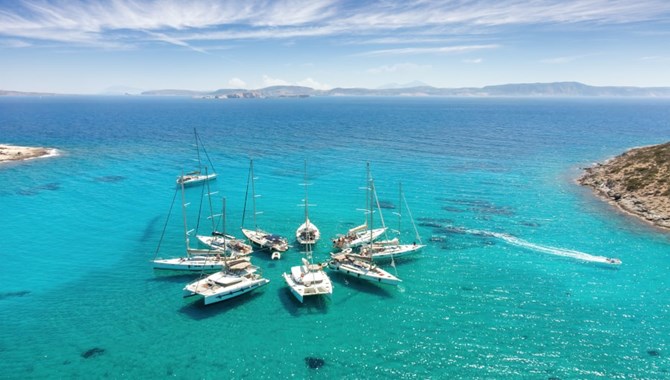 Cyclades with a catamaran yacht
Famous around the globe, scattered in the Aegean Sea are the incredibly beautiful islands of the Cyclades. Distinct white washed architecture, gorgeous sandy beaches, charming windmills, and barren landscapes are just a few of the characteristics one will experience in this region. Visitors from around the globe flock to these islands every year in search of their own personal paradise on earth. Intriguing little alleyways, blue domed chapels, and awe inspiring views create a sense of enchantment when exploring these epic locations. Milos, Folegandros, Naxos, Paros, Sifnos, and Kythnos are just some of the many islands available to visit on your voyage in the Cyclades.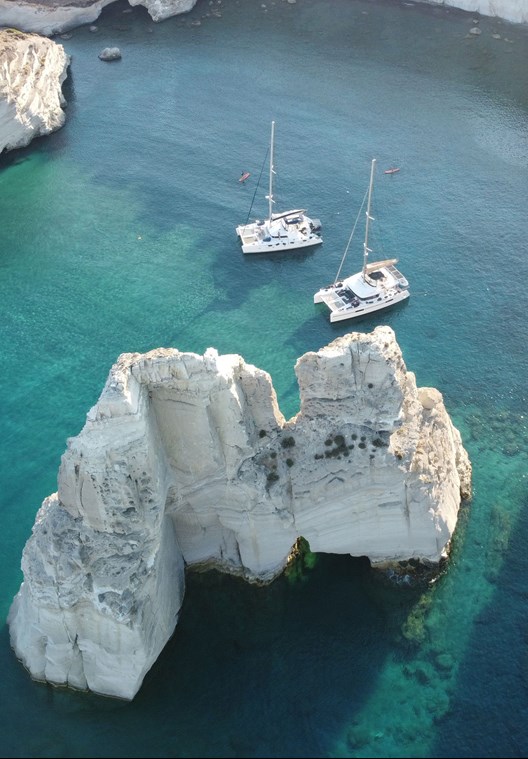 The Cyclades Islands are an amazing destination for sailing. With its crystal clear waters, white sandy beaches, and beautiful scenery, the Cyclades offer a unique sailing experience. Catamaran charters in the Cyclades provide a peaceful and relaxing way to explore the islands and get up close and personal with some of the most beautiful sights in the Mediterranean. Whether you're looking for a romantic getaway or a family adventure, this is sure to provide plenty of unforgettable memories. With numerous ports and anchorages, catamaran charters in the Cyclades offer plenty of opportunities to explore the islands and experience the culture, cuisine and history of this amazing region.
During your Cyclades catamaran charter the amount of activities and things to do during your trip are endless. Explore the many magnificent bays, locate your own private secluded beaches, discover the many traditional flavors on offer at the local taverns, or seek out the more glamorous options of extravagant venues and restaurants. Witness some of the best sunsets available on the planet as well as the moonlight shimmering off the Aegean Sea. When on land explore the charming little alleys creating mazes through the fairytale villages and interesting town squares. A major reason this complex of islands is so popular is because of the incredible beaches each of them have to offer.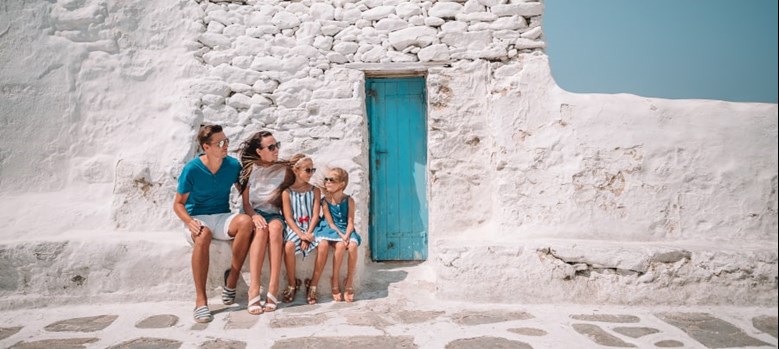 When on your Cyclades catamaran charter with Yachtsailing.gr the sandy beaches and crystal clear waters are at your fingertips for whoever decides to take a revitalizing swim or spend time sunbathing in the hot Greek sun. Or instead take advantage of any water toys or sports you have requested onboard during your stay in these heavenly locations. When on land, take advantage of the many hiking trails to explore and become acquainted with the land, history, and lifestyle of the locals. Most trails will lead to some historical monument, archeological sites, windmills, or interesting churches and monasteries situated in areas with perfect views to enjoy at the end of your hike. There are also many monuments and museums available on each island for those seeking to enrich their knowledge of the rich history of each region they visit. Most of the main towns in the Cyclades will be situated on the slopes of hilltops providing guests with gorgeous views of the sea and surrounding areas.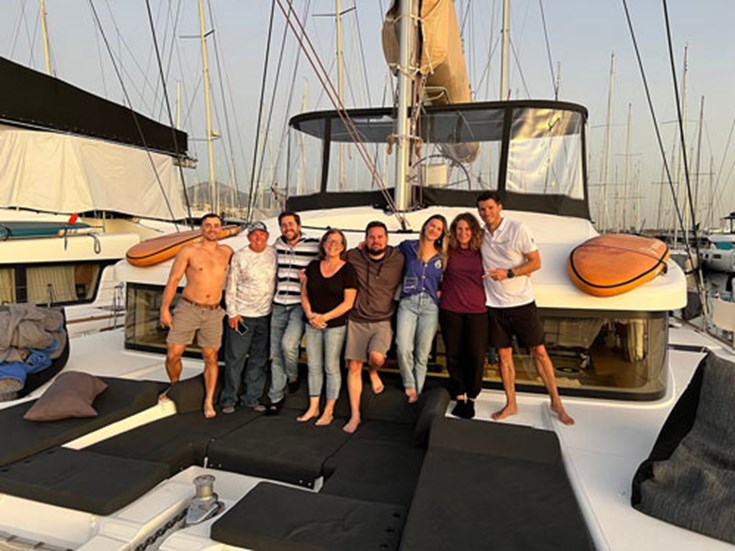 With such a wide selection of activities to pick from on a Cyclades catamaran charter it may seem difficult to decide what to do first. Trust your skipper to guide the way, introducing everyone to the Greek Lifestyle. Not only will he navigate you through the gorgeous seas, but also act as an incredibly valuable host of the islands. Guiding you far away from tourist traps, advising you on the activities available in each area, as well as providing insight into the locally produced products and specialties available in each destination. Old and young will be amused at the many tales of his voyages of the sea and interesting information offered during your sails. When deciding where to have dinner you will have the best recommendations at your disposal as well as the option of inviting your skipper along to join the festivities. All will surely be impressed with his excellent people skills and social ties to areas you will be visiting.
This complex of islands has an incredible variety to select from, all serving specific purposes and all types of preferences. History lovers will enjoy the many significant archeological sites available to visit. If it's crazy nights and parties everyone is after there is no doubt one of these islands is perfect to get the heart pumping with excitement. For instance Mykonos and Ios are renowned for their epic nightlife and the possibility to party all the way through to 12:00 the following day. All the islands have exceptional local taverns, restaurants, and food available for all tastes and preferences.
Sifnos has recently come into the spotlight over the last decade for its unique flavors, specialty dishes, and known as the humble beginnings of some world famous Greek chefs. Naxos, the largest and greenest island of the Cyclades is also known for its delicious food, fresh agricultural produce, cheeses, famous potatoes, and excellent livestock. Whereas Milos, and Kimolos are blessed with impressive and unique landscapes created by past volcanic activity. Here visitors will experience a wide range of natural colors on display by the sea, rock formations, and surrounding areas.
These islands have some of the most unique and beautiful beaches in the world. Crystal clear waters, and epic sunsets are sure to please all types of travelers with their majestic beauty and mysterious nature. From swimming and snorkeling to sunbathing on the golden sandy beaches, there are a variety of activities and attractions that are sure to please all involved. This is truly an exceptional way to relax and explore the beauty of the region. Whether you're looking for a romantic getaway or an active holiday, the Cyclades is at your service!
This is just a taste of the possible life changing experience everyone can have during a Cyclades catamaran charter in Greece. An adventure of flavors, history, art, culture, and epic landscapes. While cruising these heavenly locations create memories with your loved ones, enjoy taking photos of some of the most beautiful places in the world, and be sure that this is an experience of a lifetime you won't forget anytime soon. 
Come enjoy the endless moments of sunbathing in the sunshine, diving into crystal clear waters, and explore the gorgeous whitewashed architecture on a Yachtsailing.gr Cyclades catamaran charter!