GO BACK TO BLOG
Why a catamaran is the ideal choice for a family sailing holiday in the Cyclades
The Cyclades are a complex of islands with wild barren landscapes located in the Aegean archipelagos. Each island has its own unique features, history, and culture. The majority are known for their wild barren landscapes, white sandy beaches, and crystal clear waters. Mykonos and Santorini are some of the most popular holiday destinations in the world, and many of the other islands have gained fame over the years and attract many visitors every summer. When in the Cyclades, one can expect delicious local cuisine, interesting archaeological sites, and the characteristic white washed villages and architecture you usually see on Greek postcards. When considering a family sailing vacation, these islands could create memories everyone will cherish for a lifetime. Their name derives from the Greek word cyclos, meaning circle. This is because they form a circle around the island of Delos, which was one of the most important religious centers in ancient Greek times.
========================================
Book A Greece Charter Catamaran here!
========================================
When visiting this group of islands onboard a catamaran, there will be all sorts of interesting sites and activities for those of all ages and walks of life. Making them a perfect sailing destination for a sailing vacation. When island hopping around these islands, a catamaran will provide the perfect balance of comfort, safety, and fun activities to enjoy during your vacation. Due to the shallow draft of the vessel, you may access certain bays and areas which other boats cannot. Allowing you to enjoy relaxing in enchanted bays, and explore unique rock formations and sea caves. The wide deck and exterior dining are perfect for spending time outdoors taking in the scenery, sunbathing, and chilling on deck.
Catamarans experience very little heel, which can help alleviate the stress parents would have for their children's safety on a typical sailing boat. It is also less common to get sea sickness aboard a catamaran as you would on a monohull. This leads to less sailing fatigue which in turns allows everyone to enjoy their days at sea with more comfort and vigor. Families will quickly realize the amount of extra space available in almost every area of the boat during their sails. Above you will have an incredible amount of extra leeway, for example the anchorage area offers a wide space where sunbeds and trampolines are available for tanning and enjoyment. The deck offers a lovely wide area with very little obstacles and is level with the galley and saloon.
Here everyone can enjoy reading a novel, watching the beautiful views on offer, or enjoying their meals on the available seating located at the outdoor saloon offered at the AFT deck of the boat. The galley and interior saloon on the catamaran is designed for comfort and loads of space as well as amenities for relaxed living than you would get in a monohull. In the latter it is cramped and limited and is designed simply for meeting everyday needs out at sea. The guests onboard a catamaran will have substantially more privacy from one another seeing as the boat has multiple sections and subdivisions included in the layout of the boat. Another aspect of comfort everyone will notice is the available space and luxury the restrooms have to offer. This creates the sensation of a 5 star floating hotel, elevating the whole experience during your catamaran sailing vacation in the Cyclades.  
As mentioned before one of the most beneficial aspects many have commented on, is the fact that when on a catamaran almost all areas are located on the same level. For instance when enjoying meals and leisure time families can enjoy a limitless amount of space. Choosing to wander around the deck, lounge in the saloon, or simply relax in the seating areas provided near the cockpit. From every single one of these areas guests are provided with a view of the seas and the surrounding scenery.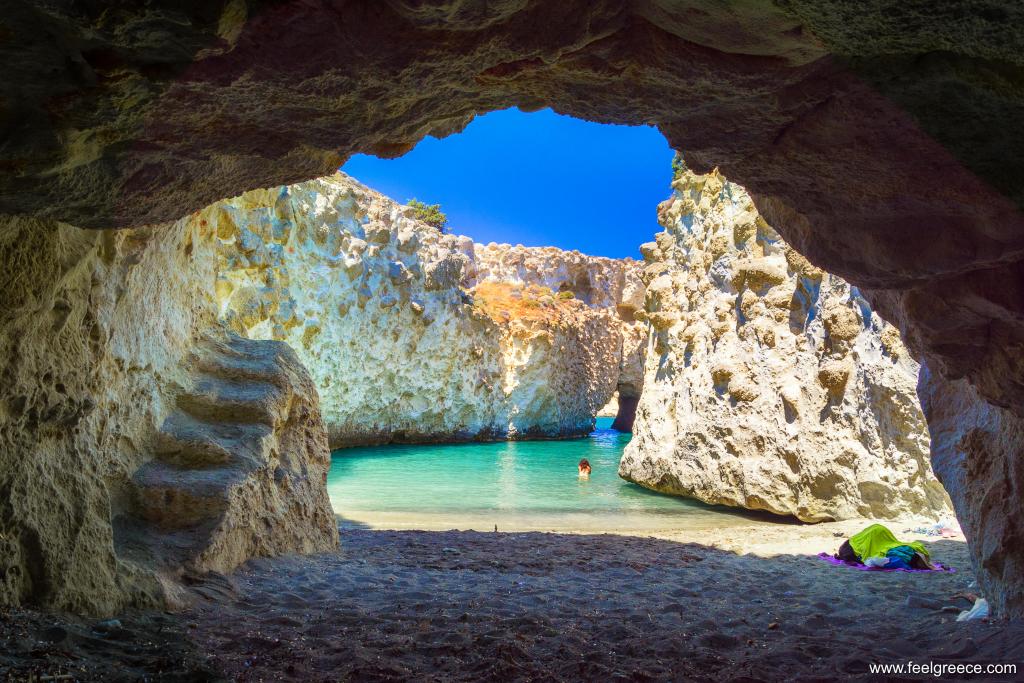 The Cyclades are often characterized by cliffs, small coves, and long sandy seashores. The beaches of the Cyclades are frequently surrounded by exceptional rock formations, and the waters are generally calm and inviting. Most Cyclades beaches are family-friendly, with shallow and safe waters for swimming, snorkeling, and other water activities. Some of the more popular beaches are located in Mykonos, Santorini, and Naxos, each with their own unique characteristics. Beaches on the Cyclades are often known for their panoramic views and gorgeous sunsets.
These areas have many diverse and distinct coasts to explore during your catamaran sailing adventures. Each beach is distinct in its own way due to the different geological formations and shapes of the islands. Some of the beaches are sandy and others are rocky. Some have crystal clear waters while others have a turquoise hue. They also offer a variety of activities, from swimming and snorkeling to hiking and exploring. There are also some beaches that have small fishing and traditional villages that provide families with a glimpse of the culture and history of each region. All of these factors make the beaches of the Cyclades some of the most beautiful in the world.
The little villages and towns of each island are filled with interesting sights, stores, restaurants, and architecture. There is also an incredible amount of beautiful little chapels, churches, and monasteries scattered all over for people to visit. They are made up of whitewashed walls and blue domed roof tops, and many have a story of religious significance or are dedicated to a saint. Depending on the time of year you will be visiting, there are often large festivals celebrating religious holidays, where one can take in the traditions and culture of the locals. The Greeks are known for their hospitality which you will quickly become accustomed to when spending time in the Cyclades.
With so many islands to visit, sailing the Cyclades Islands aboard a catamaran is simply one of the most efficient ways to get the most out of your time spent in Greece. Enjoy all the amenities and luxuries onboard, while visiting some of the most beautiful places in the country. Take in the sights while getting lost in the white washed alleys leading to interesting sights, local taverns, and interesting town squares. Visiting archeological sites and gorgeous monasteries usually located on hilltops and high vantage points with incredible views. These are just some of the wonderful experiences you will have when visiting the Cyclades during your catamaran sailing vacation in Greece.