Check availability
Yacht highlights

Powerfull air conditioning
Tropical air conditioning at all interior areas

Watermaker for big autonomy
Produces 160lt/hr of water

Cockpit sofas and bow sunbeds
For endless relaxation and breathtaking sunset views

Refitted in 2023
The boat is constantly refited to match our high quality standards. See refit info

Queen size beds
Enjoy your sleep with the comfort of a 5 star hotel

All bathrooms ensuite
Large bathroms with separate shower

Private Trip
You have privately the whole boat for the week

Unique Deck Space
Incredible volume and skylight in the master cabin

Enhanced Clean Protocol i**
The boat complies with 5 step cleanning process

Large refrigerators and freezer
Will keep beverages ice cold at all times

Icemaker
Nothing better than an iced cocktail

Beach towels included
Numbered so every towel is unique

Cocomat pillows for unlimited comfort
Made and filled by exceptional natural materials

2 x Paddleboards onboard
Aquamarina for unlimited fun onboard

Carefully selected bed linen and towels
Exclusive fabrics for maximum comfort

Separate skipper quarters
For maximum privacy

Dinghy with outboard
Handled by your crew, you may easily apprach the shore

Certified by the Lloyds registry
Yearly inspection protocols for maximum security

Description
by Eugene Theodoridis
In the boat industry since 2005 - 16 years
All photos and videos represent the actual boat - All information is verified
Our latest gem, fully refitted in 2022! The Royal Flush is one of our top of the range boutique options, and can accommodate up to 12 guests. Equipped with an incredibly spacious layout, fast cruising speed, and sublime forward lounging area ideal for chilling out while taking in the breathtaking surroundings. Her large flybridge is perfect for getting a bird's eye view of the beautiful landscapes and scenery you will witness during your cruise. Queen size beds and supreme quality bedding ensure a 5 star experience. Generous bathrooms with separate shower areas offer complete comfort and convenience. A water maker is available producing 160lts/hr as well as an ice machine for enjoying refreshments, cocktails, and sodas onboard.
Why not go all-in 🙂 with one of the most popular options in our range!
More features are listed in our Yacht Highlights and Detailed specifications.
All our boats comply with a 5 step cleaning protocol and are certified by the Loyds registry. 
If you have any inquiries, schedule an appointment online with one of our representatives and we will contact you as soon as possible.
Cabin Configuration
Master Cabin
Queen size bed
Vip Cabin 2
Queen Size bed
Vip Cabin 3
Queen Size bed
Vip Cabin 4
Queen size bed
Double Cabin 5
Queen Size bed
Cabin 6
Bunk cabin (bed up and down)
Detailed specifications
Characteristics
Yacht Type:
Sailing Catamaran
Refit Year:
Full refit in 2022
Water Tank (Lt.):
2 tanks total 1000 lt
Fuel Tank (Lt.):
2 tanks total 1000 lt
Layout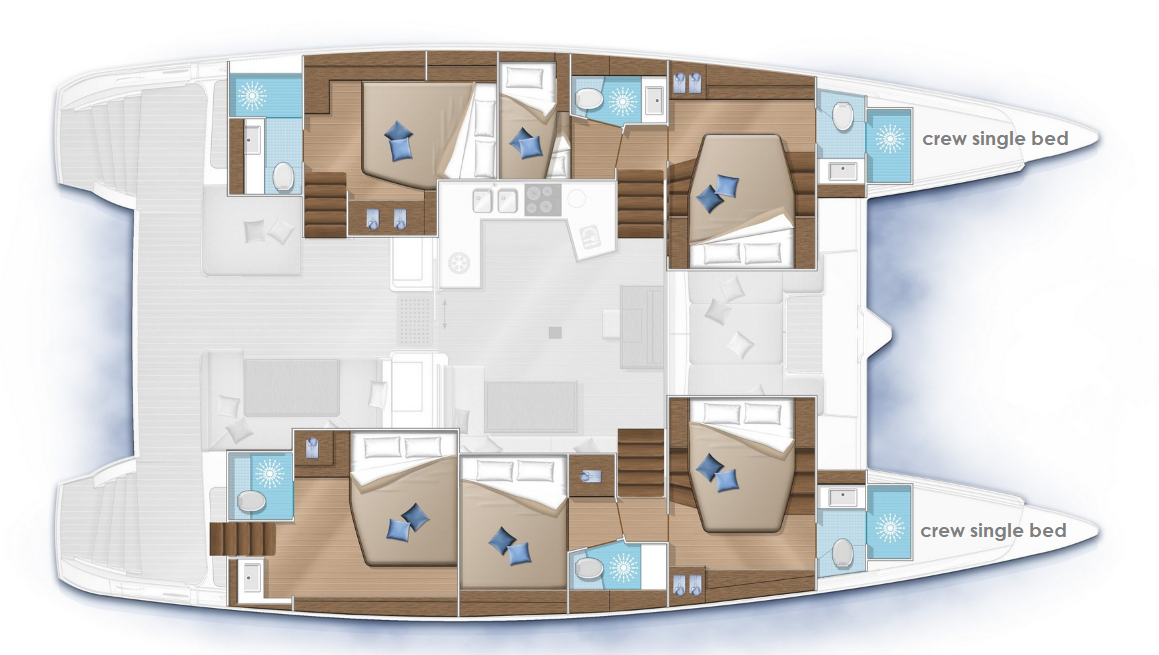 Best vacation of our lives!
TripAdvisor member Chelsea C
I'm not sure where to start but not only was this the best vacation our group has experienced, it was possibly the best week of our lives. We all agreed that the only thing that could make the trip better is an additional week! The boat (Royal Flush) is a masterpiece in itself—immaculate and spacious, high-tech and (extremely) well equipped. I can't imagine there's a better boat out there.

The crew, really our friends now, Morphi and Dimitris, are Greek angels we're sure—absolute saints those two! Every moment getting to spend time with their bright and beautiful personalities was a treat. Morphi's food made us positively emotional and every dish was better than the best meal in a restaurant (which were still epic meals of course). She fed us well and often and perfectly timed, always with a smile and warmth. She knew who enjoyed what coffee and each persons personal wine happy hour preferences. She always had a story to tell and radiant energy, and we miss her smile dearly.

Dimitris was a mind reader with planning our itineraries and every excursion he arranged was perfectly paired with the groups energy level and personality. You like wine? He knows the perfect wineries on each island. You like sights & adventure? Here are 4 ATVs waiting for you to cruise Spetses at your leisure. Oh you like to swim, yeah? Here are four of the most beautiful turquoise coves you can dive into. He's just a cool guy, absolutely interesting and full of knowledge. Also, when it comes to navigating a large boat with charisma and confidence, I doubt anyone can do it better. Even when novice captains around us would mess up our anchor or docking, he didn't sweat it and was a pro. Smooth sailing to the maximum!

Eugene, Joanna, and both Marias were kind and patient to work with. Planning every detail and giving surprisingly prompt responses (I'm wondering when they sleep). Everyone has questions, I'm sure, and I had plenty, always answered by them with grace.

The Saronic Islands are not to be missed and while we thought the popular Cyclades were the ideal spots, you'll have to twist my arm to get me to go anywhere else. I'm convinced the Saronic are heaven. The sunrises and sunsets give pause and time stops in those moments.

I hope everyone gets to experience this at least once in their lives. I believe the relaxation, happiness, and bliss our family experienced that week is the meaning of life.

Yachtsailing.gr and everyone involved, you'll see us again soon! In the meantime, thank you so much for the experience you provide to stressed-out, over-worked Americans. We owe you :)
Simply perfect!
TripAdvisor member qualheka
The most perfect vacation ever!!! We will be back!

Captain Dimitris was kind, fun, and skilled. He found great swimming coves and oh so skillfully parked in the docks/moorings. He offered clear options each day to make plans for the day's sailing and adventure. He even surprised us with a little tubing adventure on the last day. Wonderful Captain!

Our hostess Alex was just incredible! Her food was better than anything we had on land! I am not exaggerating. Just superb! And she is kind and gentle, also! We were not sure we wanted a hostess, but Alex turned out to be one of the very best parts! I think in the long run we actually saved money by having Alex, and she certainly cooked healthier, fresher food than we would have done for ourselves.

There are many places on the Royal Flush to hang out (full group or individuals, sun or shade, windy or not), surprisingly spacious, good water pressure in shower, amazing sailing the stunning Cyclades islands. Water SO clear. People friendly and open. I enjoyed bringing a bag of cat treats for all the friendly Cyclades kitties.

You really live in your swimsuit, a coverup, and towel. No need to pack a different outfit for each day. Do bring sunscreen (ideally reef-safe) and bug spray (we needed it on Serifos). Water in the first week of June is cool, but we enjoyed it anyway. It's easy to rinse things out in the sing and clip them outside to dry quickly. They had nice, fluffy towels for us, but I enjoyed my quick dry Turkish towel (even doubled as a blanket on the airplane.

While there are many places in the world on our list to visit, this was SO incredible that our friends want to do it again in a few years. And we will definitely book Dimitris and Alex again! It was simply perfect!
Dimitrus and Yachtsailing.gr
TripAdvisor member dalesF2226UA
Dimitrus with yachtsailing.gr was fantastic and made our trip very enjoyable! He was always well planned and organized and knew the best restaurants, Port locations, and local activities. Oh, and he was an excellent captain too! What a great experience.
Amazing Trip for our family of 9.
TripAdvisor member braverma
We are just 3 days out from completing our sailing trip through the Cyclades and still reveling in what was an outstanding experience. Yacht Sailing was an amazingly responsive company from start to finish, answering all our questions well in advance of our arrival, setting up multiple zoom calls and more. Our skipper Demitris has been sailing the island since the age of 6 and navigated us ahead of a storm, getting us out of Athens and to our first island while other boats headed to lesser destinations. This put us ahead of many other vessels for the entire week. Our hostess, Nefeli, was an amazing chef and brought cheer and humor to our every moment. Each meal was better than the last and she seamlessly provided for us while being magically unobtrusive. We had originally considered just having a skipper, but it are SO happy we chose to have a hostess as well. Our crew steered us to truly amazing restaurants on each island and we had sightseeing and dining experiences we would have never otherwise experienced. THANK YOU!
Amazing Holiday
TripAdvisor member Stephanie S
I cannot say enough about our experience! We were a blended group of friends/family, 6 adults and 4 kids. We sailed mid-June and the weather was perfect! Truly one of the most relaxing and enjoyable vacations we have been on in a long time. Our skipper, Dimitris and our host, Aliki were both wonderful and easy going. Dimitris knew all the best places to take us and Aliki made some of the best food we have ever eaten. I should have stood in the kitchen and watched her every day. You definitely won't be disappointed if you book this trip and will be immediately planning how to go again!
Absolute BEST Way to Visit Greece!!
TripAdvisor member Blackdogsurf
!If you're seeking a memory of a lifetime, action-packed adventure — while also feeling incredibly chill and relaxed — look no further! yachtsailing.gr and especially Captain Dimitris Dalakos will create an amazing customized vacation experience you and your family will never forget. Our goal was to create family memories that would last a lifetime. It was quite simply one of the most unique experiences my family has ever shared. We enjoyed the most beautiful and unique islands, activities, delicious food and wine we've ever encountered! My absolute favorite was the day we dropped anchor at Kleftiko Beach on Milos island. It was absolutely incredible!!!

We arrived with little expectation as to the islands we'd visit or the adventures we'd experience. We left the planning of our adventure up to Dimitris who had been sailing the Greek islands since he was a young boy. This was a fantastic decision. We visited Paros, Milos, Serifos (another TOP favorite due to its ultra chill vibe and absolute beauty), Hydra (super cool architecture, shopping and no cars allowed - donkeys only), anchored next to a nearly deserted island with about 5 homes on it where we hiked and had an chance to pet a few friendly wild horses. In each location, Dimitris briefed us on the top things to see and do on the island. When we disembarked to explore the islands, it was reassuring to observe the way the locals greeted Dimitris with big smiles. They clearly respected him and loved him. His expert knowledge, extraordinary hospitality, and genuinely warm, fun, and engaging personality made for such an amazing adventure.

Dimitris was much more than just a captain. He safely navigated our catamaran through the Cyclades. He was an amazing English-speaking host, social director and travel guide showing us great restaurants, local taverns and must see "off the beaten path" locations away from the tourist traps. He guided us to some of the most gorgeous spots we'd ever experienced including Kleftiko beach (worth a second mention - an absolute MUST see!).  We saw an incredible huge school of dolphins in the middle of the ocean that our captain captured on video and shared with us. He even captured many of these moments with arial photographs that he captured with his drone that he generously shared with our family. Dimitris suggested top places to have dinner and even made reservations for us at his favorite restaurants in Paros. Quite honestly, he started to feel like part of our family. He joined us for dinner and also gave us space for us to share time as a family. It was the personal attention to detail, professionalism and care from both yachtsailing.gr and Dimitris that made our entire group feel like VIPs! They truly made this trip one of the best we've ever had!
EPIC
TripAdvisor member Jay R
Barbie chose the perfect words "epic trip". Epic is an understatement and everything Barbie said is true. On land, one might think Dimitris was a celebrity. Everyone knew him and he knew everyone. Dimiris arranged for reservations on the islands that were otherwise impossible to get. Speaking of food, I'm not sure I will ever eat moussaka again after eating Aliki's. It was the best I ever had.

Also a big thanks to the crew at the Marina. Thank you Alex for making sure everything was perfect.

See you next year everyone
The crew makes the vacation!
TripAdvisor mattvolpert
I rarely do advance planning for vacations, but this company is very popular so I booked our sailing trip approximately 18 months in advance. From reading other reviews and talking to other crews once I was in Greece, it seems like this company has the best reputation for skippers, hostesses, and staff and I agree with that assessment after spending a week with Dimitri 
and Morphi. Both were very professional, kind, and fun, quickly bonding with our group of 8 and enjoying the week with us. in addition to their wonderful demeanor, Dimitri seemed to know every person at every port which paid dividends, often getting us a berth despite the most popular areas being "full." For our hostess, we had requested fresh and local ingredients for meals, and Morphi was a pro at making exquisite dishes that delighted us at every opportunity. Both Dimitri and Morhpi truly care and enjoy their jobs, which isn't always the case in positions like this, and we are happy to call them friends now, even after spending just a week with them.

There are a lot of yacht company choices in Greece, from my experience I would say this is one of the best, and encourage you to book them
Unforgettable Adventure!!
TripAdvisor member Megan H
Captain Dimitris chose great stops on our trip and was safety oriented. He communicated well with our group and with other boats about our trip schedule. Bonus-Dimitris is a DJ and has fantastic taste in music!
Morphie spoiled us with her delicious food, fun personality and attention to detail! We were never hungry or without a beverage of choice in our hands. Both Morphie and Dimitris knew the region well and gave us great recommendations. We were in very good hands and will definitely request Dimitris and Morphie when we come back. A top notch crew that made this an unforgettable adventure! Thank you!!!
Amazing sailing trip in Greece
TripAdvisor member damiao2
We had an amazing sailing trip in Greece thanks to our captain Dimitros and our hostess. The boat was a great catamaran, and Dimitros was an excellent captain. He was very knowledgeable about the area and always made sure we were safe.
Dasa cooked delicious meals for us every day, and we always had plenty to eat. She was also very friendly and made us feel welcome on board. We would definitely recommend Dimitros and Dasa to anyone looking for a great sailing trip in Greece. Thanks for everything!
Fantastic sailing trip on the Saronic gulf and the Cyclades!
TripAdvisor member Karin S
We had a fantastic time sailing with our skipper Dimitris! We were impressed with the customer service provided by the entire staff! It was so reassuring that Ioanna or Eugene answered all of our emails within 24 hours and answered all our questions in preparation of the trip. Alex, who greeted us was super! Everyone was professional and friendly! Our skipper, Demitris was a very skilled sailor and he was warm, friendly and easy going. We loved spending time with him, but he also gave us our space. He took us to amazing spots, which included Hydra, geo-thermal pools on Kythnos, a peacock island (Moni) and Poseidon's Temple. He made awesome restaurant, food and wine recommendations. We are already talking about our next trip with Demitris and Yachtsailing.gr!
Yacht location - in Athens

Sat 30 September - Sat 7 October

Check in: Saturday 14:00

Check out: Saturday 09:00
Select your dates
Or search for different dates
Departures take place mainly Saturdays

Check availability
Things to consider
Good to know
We are located in Alimos marina
Athens main airport is 30min drive
Main currency is Euros
There is an ATM in the marina in case you need cash
We can arrange your transportation from/to the airport
Provisioning can be arranged to be delivered onboard
Practical information
Embarkation takes place on Saturday around 14.00
We can arrange a menu according to your preferences
We sail towards the Cyclades or the Saronic
Itinerary is weather dependant
The route is fully custom according to your preferences
We offer mainly weekly trips
Why a catamaran
A lot of space onboard
Catamarans do not roll or heel
A better sense of stability and safety
More and better anchorages due to lower draft
Catamarans offer a 360 view when onboard
Closer to the feeling of a floating hotel
Better for non boaters/first time sailors
2nd Option
The yacht you have selected is under option. Leave us your email for a second option.
Send