Why Sailing
If you are reading these lines you should be close to your dream vacation.
Don't forget: Sailing is available for everyone! You do not have to be expert or master in wind analytics to sail. You can try with the help of our professional skippers and hopefully one day you can rent a boat on your own.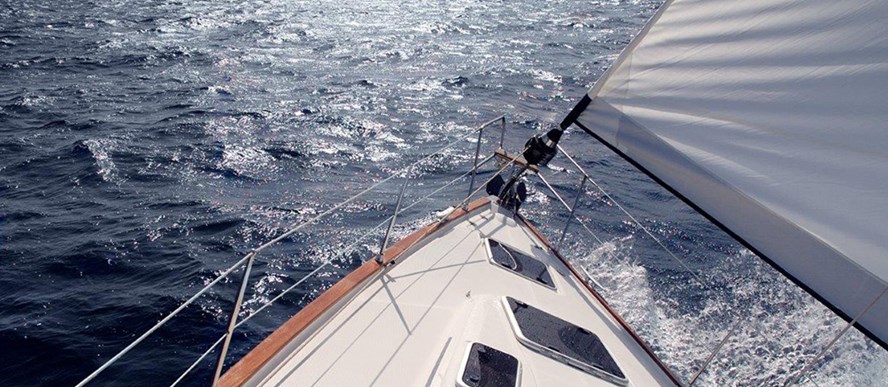 For those of you that already know how to sail and you are thinking if it is better to go sailing or rent a house in an island read below so you can return to common sense…!!
We know.. You do not like to read a lot of text. We have gathered all information in bullets so it will just take a minute of your time. IT IS WORTH!
Total freedom. You are always with your swim wear on and you can dive any time of the day or night you wish


Great experience. You will see amazing places of nature and feel truly you are on vacation.


You are always seconds away from swimming in the Greek seas.


The island hopping! You can see a unique island each day and change destination and atmosphere according to your senses


Total relaxation. Trim your senses by looking the beautiful waters and at the same time access food, drinks or cocktails from the kitchen


Select the food and beverages you will have with you. No pre ordered material. What you want with you can select it! According to your need and desire either cheap or expensive


The best tanning! You get it on the deck!


You can select if you want to spend the time in totally isolated locations where there are not millions of tourists around or depending on your mood go into more crowded places to party along with everyone


You can have a lunch or dinner in the middle of amazing bays with a feeling of total exclusivity.
Listen just the wind, the sea, the birds the nature, or have a party with music in the middle of nowhere!


It is cheap! The groups of people that can be onboard place yacht sailing one of the cheapest way of vacation compared to what you get as a return!


It is ecological! Use only your sails and understand the physics behind sailing (very educational for younger children by the way..) and save fuel at the same time


Very low consumption. Depending from the boat you will choose the consumption would be from 2.5 lt/hr to 7.0 lt/hr (in case you want to use your engine). You should expect an average fuel cost from 50 to 150 Euros per week! depending your engine usage. Divide it with the persons and you understand how cheap this might be for a week!

If still you are not convinced then we invite you in Greece to see in person what we do and what sailing vacation is all about. Trust us, it will be the best vacation you ever had!