GO BACK TO BLOG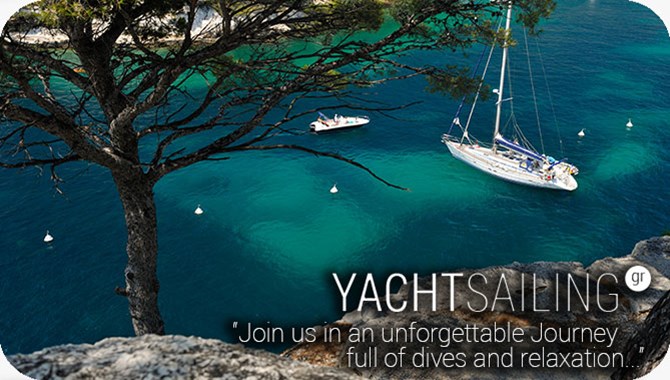 Sailing in Beautiful Saronic Gulf for a period of Two weeks
Saronic Gulf is a sail area which I would evaluate as ideal for beginers that would like to sailing in the Greek islands without having the risk of high winds and big waves. The area of Saronic gulf is quite friendly and representative of the Greek spirit and beauty.
Saturday: Most probably this is the day when you will be arriving in Greece so I consider the particular day as a 'resting day' in order for you to get familiarised with the boat and relax while having a drink on board.
Sunday: Alimos-Poros 32 sailing miles: Start early and you are 2 hours away from your first swim. You can stop in Moni Bay which is a great bay for anchoring, swimming and relaxing. This is an inhabited island where only a beach bar is present. You will be able to enjoy the sea and the sun before you depart for your first destination which is the island of Poros. This is a very friendly island for the sailing boats, a large bay so you can anchor with safety and a lot of restaurants and light life.
Monday Poros - Hydra 14 sailing miles: After your breakfast you will sail to beautiful Hydra! Our suggestion is to enter the port early so you can find a place to moor and be able to enjoy the traditional beauty, have a swim in the crystal blue waters or go for a walk in the island were the cars simply do not exist! In the evening you can taste the delicious local recipes along with the famous Greek wine.
Tuesday Hydra - Spetses 25 sailing miles. After Hydra you should visit Spetses. Spetses is considered one of the most beautiful islands of the Saronic gulf. Spend your day swiming, relaxing having lunch and enjoy the old time classic beauty of Spetses with the captivating atmosphere which you will remember for a long time when returning home. On your way to Spetses you can stop to Dhokos which is a unique island, ideal for anchoring and swimming in the crystal clear waters inside the bay.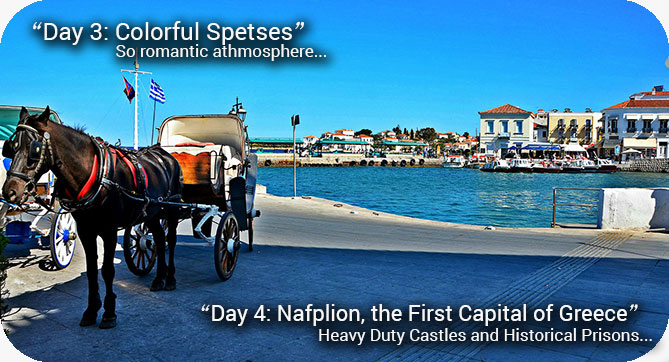 Wednesday Spetses - Nafplion 26 sailing miles. Leaving Spetses behing and heading to Nafplion the following day. Nafplion used to be the 1st capital of Greece. The city is quite beautiful and is well know for the big castle that is located in the top of the city (you can go walking) and the ancient prison which is in an isolated island just oposite the city (150 metres from the dock). In Nafplion it get's really hot during summer time and you will not have big wind waves to refresh the atmoshere.
Thursday Nafplion- Astros 13 sailing miles. Astros is a fishing town with an amazing scenery if you are watching the area from a long distance. The sea is once again calm. You will have the chance to taste delicious traditional tastes and if you have the time you can walk up to the ancient castle that used to be the fortress for the warriors of the historical times.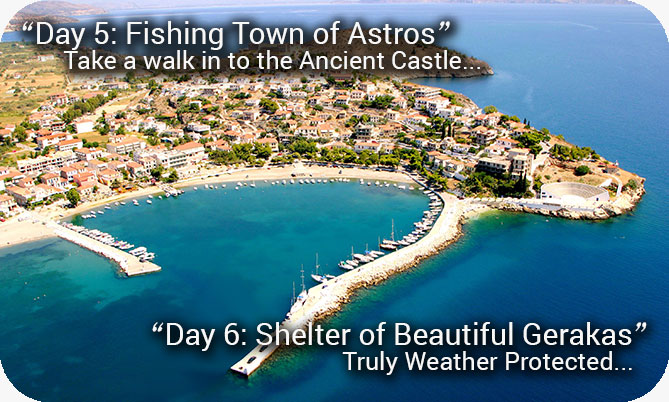 Friday Astros - Gerakas 45 sailing miles. In this part of the trip you will cover a quite long distance however you should expect a very calm sea all the times and the majority of the occasions the wind will be blowing from the North. This means that it will be actually a down hill. In any case Gerakas bay will surely out pay your mile coverage and will fulfill you with peaceful emotions and truly emotional scenery.

Saturday Gerakas - Monemvasia 9 sailing miles. I truly love this place. I can guarantee you that it is a must in terms of Greek seas highlights. A huge rock appearing in front of you as you enter from the 'single entrance' of the port. The location is in short, captivating.

Sunday Monemvasia - Leonidio 37 sailing miles. Leaving back Monemvasia is not that easy however you are about to meet the city of Leonidas and the 300 Spartans. Leonidio, is a quite nice location, well known for her very nice restaurants and calm bays where you can easily anchor and spend the night.
Monday Leonidio - Porto Heli 17 sailing miles. The area of the rich and famous, Porto Heli is considered a very beautiful location with ideal climate, since there is no big winds and rough seas. Spend some time in the area and have dinner in very nice restaurants.

Tuesday Porto-Heli Ermioni 16 sailing miles. After Porto Heli you will be heading to Ermioni. Ermioni is considered a coastal town. Her captivating beauty is based on the fact that she is surrounded from 3 sides. You can use Ermioni as a base in order to explore surrounding points of interest of the area such as cultural monuments or unique points of nature. Don't forget to taste some of the best cocktails in town..
Wednesday Ermioni Epidavros 45 sailing miles. The particular part of this sailing trip can be either sailed once or with a quick stop in Poros. Epidavros is a very calm location well known firstly for the ancient theater which was the mother of Greek theater tragedy. Another interesting reason that Epidavros has the best traditional tavernas with pleasant people ready to serve you with the best tastes available
Thursday Epidavros - Aigina 17 sailing miles. Leaving Epidavros behind and heading to Aigina is an easy sail, with many available places to take great dives.. The best bay, well known for the combination of crystal clear waters and nice scenery is Moni bay. You can stop, take dives have lunch on board and then anchor in Perdika bay, which is located in the south side of Aigina island.
Friday Aigina - Alimos 22 sailing miles. Don't be in a rush, you have all day in front of you. Spend some time into isolated bays, take dives, swim, have lunch onboard and after all these activities start returning to Alimos. It should be a total of 3 sailing hours maximum.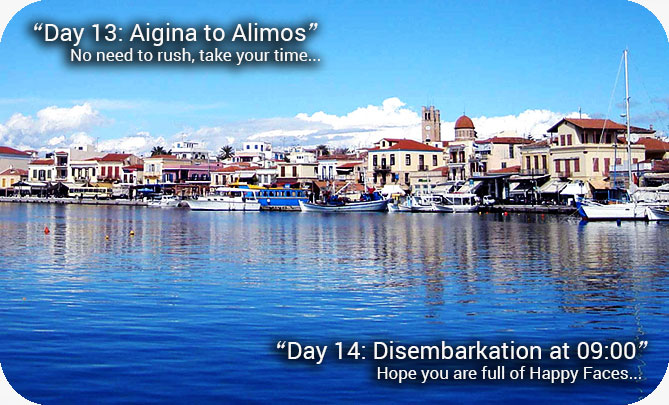 Saturday Morning: The trip has come to the end. We hope that you fulfilled your experience and you are full of happy faces and emotions of joy..
For those of you that want to see the trip live in google maps please use our charts listed below