GO BACK TO BLOG
Catamaran Charter with a Cooker in Greece
Greece is one of the most popular summer destinations in the world, and a country rich in culture, the arts, and history. It is blessed with an amazing array of breathtaking islands which attract people from all walks of life and different places around the globe.
To most, the image that comes to mind is whitewashed alleys and villages, blue domed chapels, ancient ruins, incredible beaches, and crystal clear waters. However there is so much more to discover when deciding to visit this gorgeous country. The people themselves are known for their incredible hospitality and zest for life.
When considering exploring the country aboard a catamaran this is truly the most effective way to explore and discover the many secrets and delights of the islands during your stay. They are all blessed with all different types of terrains, vegetation, herbs and local ingredients. Today we will look into how you can take advantage of all these wonderful features and the fact that you have modern kitchen appliances and cookers aboard all the catamarans in our range.  Each island you visit will have its own lovely little local markets, where you can purchase fresh locally produced products, as well as herbs, spices, and authentic greek ingredients.
The products you purchase and taste will give you more of a sense of the culture and history of each region during your trip. By having all the equipment necessary to prepare your meals, you will have the perfect opportunity to fine tune your greek culinary skills or enjoy these wonderful flavors privately on your very own catamaran. Whether you prepare it on your own, or by one of our hostesses or cooks, the fresh local ingredients will surely make for delicious meals and fond memories. Most of the catamarans in our range come with 4 separate burners and a powerful oven, or 3 separate ovens and a powerful burner. For those who love cheese the Greek Islands have a variety of different cheeses which are used in different traditional dishes, served as an appetizer, or simply to add to your pasta dishes.  
With such a diverse cuisine there are so many dishes you can try when on a Greek Island vacation onboard your very own catamaran.However we put down just a couple of dishes in order to give you a glimpse of the possibilities during your vacation.
Briam:
A local specialty, it usually contains eggplant, tomatoes, potatoes, and other fresh seasonal vegetables roasted in an oven creating a delicious sauce which you can dip your bread in and enjoy the combination of flavors.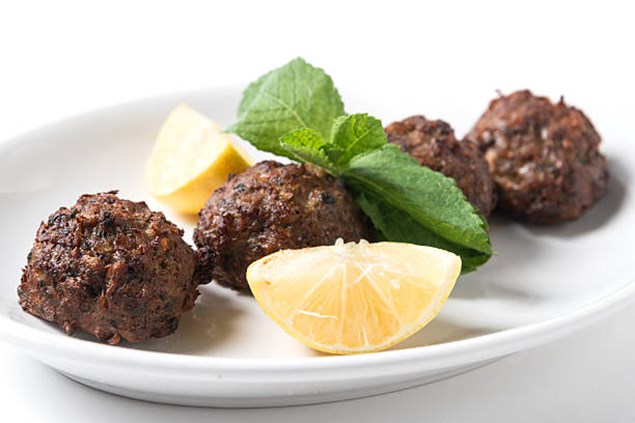 Keftedes:
Usually made from a mixture of pork and beef, onion, bread, eggs and parsley. However some add extra ingredients like spearmint or other ingredients to add some flair to this traditional dish. When preparing it onboard you can decide which local ingredients you wanna try to add your own little twist and have some fun when preparing Greek dishes. There are various vegan style versions of this dish, for instance in Santorini tomatokeftedes which are tomato fritters, and kolokythokeftedes which are zucchini fritters. 
========================================
Also read: What to eat at Cyclades
========================================
Soutzoukakia 
Oval shaped meatballs prepared with minced meat, spices, and herbs. It has a delicious red sauce and can be accompanied with rice, pasta, or any other side dish you prefer.  
Stifado
Stifado is a Greek stew which can be prepared with various sorts of meat. Most common are rabbit, beef, or lamb. The ingredients are made up of small round onions, tomato, wine, and spices like cinnamon and clove. All are combined and slow cooked with the meat of your choice which creates a mouth watering stew with incredibly succulent and tender meat.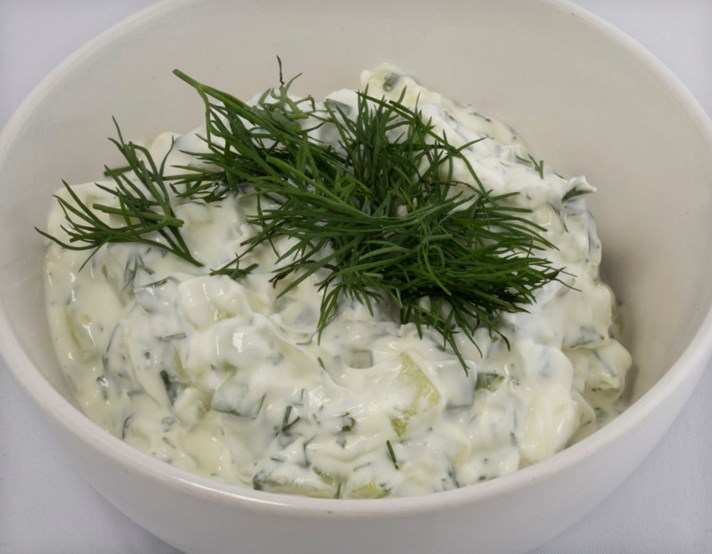 Tzatziki
This Greek dip is famous around the world and probably the most popular sauce in Greece. Why not try making your own fresh version by using the lovely and fresh ingredients at your disposal. Basic ingredients include cucumber, greek yogurt, and garlic. However you can always try something different like a pinch of dill to give it a little bit of a twist. 
Yiouvetsi
A traditional dish prepared with a greek style orzo slow cooked in a delicious tomato sauce and a mixture of bay leaves, cloves, and cinnamon. Definitely a dish to try conjuring up during your trip. 

Makaronia me kima
This is a Greek version of bolognese however the ingredients used are slightly different such as cinnamon, bay leaves, and all spice. 
Moussaka
A lovely combination of roasted eggplants, minced meat,tomato, and topped with bechamel. 
Lamb 
Lamb is a very popular meat in Greece, and chances are the lamb you eat on some of the islands you visit will be from the very livestock of that region. There are simply so many ways lamb is enjoyed, so look into the Greek lamb recipe you would like to try. With fresh local ingredients it's guaranteed to be full of flavor and everyone can enjoy a delicious meal while creating wonderful memories together.  
These are just some of the amazing dishes you can sample out during your cruise in the Greek Islands. While mingling with the locals they could advise you on their favorite dishes and maybe pick up a secret family recipe or two to enjoy during your vacation. So take a walk on the wild side, and discover our beautiful islands onboard one of our catamarans. 
========================================
Book A Catamaran Rental Greece here!
========================================
Featured Photo by Priscilla Du Preez on Unsplash