GO BACK TO BLOG
Catamaran Charter in Greece for 10 guests
Today we will go through the boats we have available for groups of guests looking to accommodate 10 guests. 
Over the years we have managed to extend our range of yachts and offer a variety of options to our guests. Our fleet caters to all types of needs and desires, and we are able to accommodate different groups of guests as well as a variety of luxuries and amenities. Within our range of catamarans are different models and sizes which are better suited to certain groups then others. Today we will go through the boats we have available for groups of guests looking to accommodate 10 people. Our Lagoon 52's and Lagoon 500's are the best options available to support this number of guests. These are some of our most extravagant models and each has a luxurious interior with large living spaces and state of the art equipment.
Guests seeking to sail in complete comfort and luxury should look no further than the boats we will mention in this list of catamarans which can accommodate 10 guests. Our Lagoon 52's and 500's are perfect for lounging on deck taking in the scenery while working on that exotic tan. These models are spacious, luxurious, and comfortable. Our two Lagoon 52's which are ideal for ten guests are the Ace of Diamonds and the Queen of Diamonds. The Casino Royale, The Big Deal, and The Full House are part of our Lagoon 500's and are also an excellent option for groups of guests seeking to accommodate 10 people.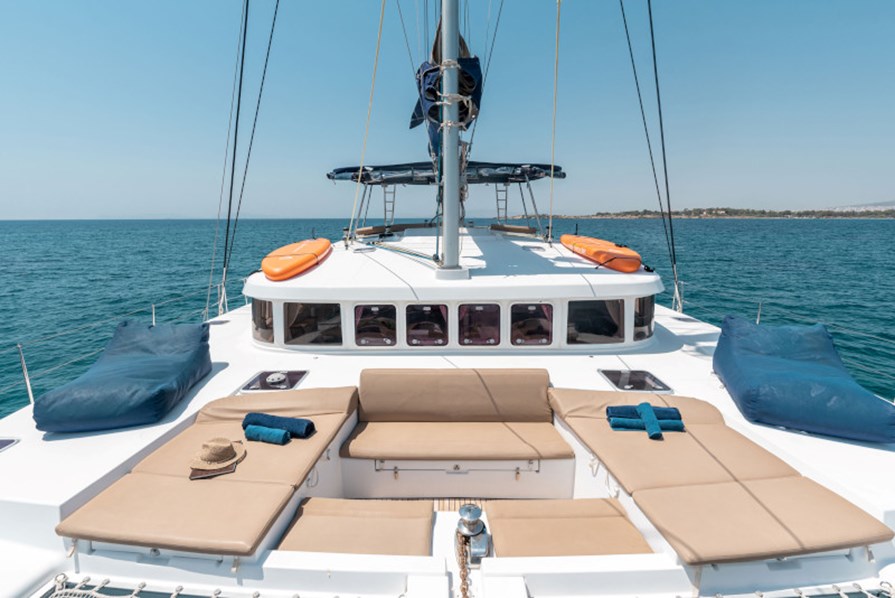 Below is a brief description of our Lagoon 52's:
Our Queen of Diamonds is equipped with all the amenities you would find in a 5 star hotel. She provides a huge living space as well as a large fly-bridge offering glorious views when sailing. She has just been refitted in 2022, has spacious cabins which are all fully air conditioned and can accommodate up to 10 guests. Her elegant well planned saloon leads to a comfortable aft deck with nice outdoor seating arrangement as well as dining area. Located at the bow are soft cushioned sunbeds laid out perfectly across a wide and comfortable deck perfect for tanning and sipping on cocktails under the stars.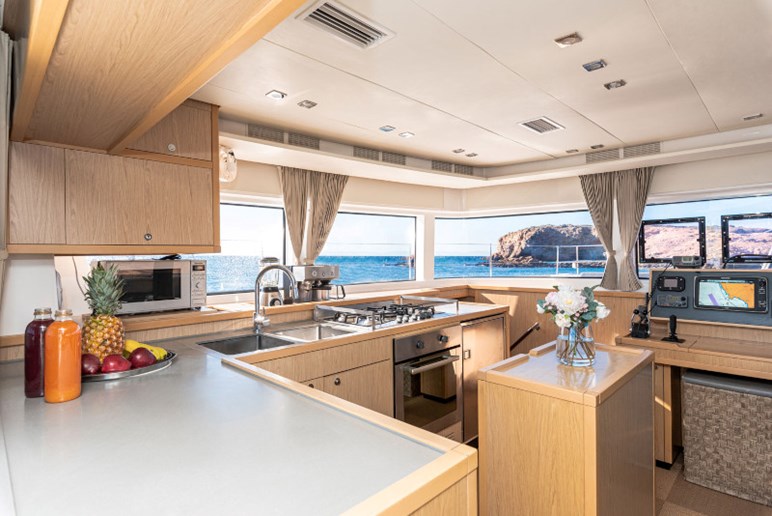 An absolute gem! Our Ace of Diamonds comes with five luxurious cabins ready to accommodate up to 10 guests, and it is equipped with all the amenities for a 5 star experience! She has a large, comfortable living space, and fly bridge area to relax when sailing. A fast cruising speed, and unique forward lounge area to chill as you sail the Greek seas. Depending on the length of your charter, this will be your home away from home for the duration of your stay. The master cabin has a lovely skylight and is very spacious and comfortable. Our boats are constantly refitted in order to meet our high quality standards and clients demands. Enjoy endless moments relaxing taking in the breathtaking views laying on the cockpit sofas and bow sunbeds.
Our Lagoon 500's are luxury sailing catamarans which offer large saloons, spacious cockpits areas and have plenty of room for outdoor and indoor entertainment. Their luxurious cabins and private heads add to the boutique experience during your sails of the Greek Islands. Only the best bedding and fabrics have been used for ultimate relaxation after a busy day of sailing or exploring the islands. The boats are powered by Yanmar engines and are equipped with generators and air conditioning. They have a large refrigerator in the galley as well as a small one in the cockpit. There is a large fly-bridge area with comfortable sunbeds so you can enjoy a cold beverage or cocktail while taking in the sights.
All the boats mentioned are combined with a crew for maximum comfort and performance. They will be your trusted guides in the Greek Seas and exceptional hosts of the places you will be visiting during your charter. All our crew members have been part of our team for years, they have been hand-picked and selected and share our core values and beliefs. All are very passionate in providing an authentic and unique Greek sailing experience. By having these trustworthy individuals onboard, you can rest assured you will be guided away from the tourist traps and experience a genuine once in a lifetime vacation.
By selecting one of the options mentioned above, you will be sailing with some of the most exclusive boats in our fleet. All of them are fully loaded with features which are all there to elevate your sailing experience and make this feel more like a luxury hotel in the sea. By keeping everyone comfortable and happy, the vessel allows the guest to enjoy their yacht sailing vacation to the fullest. If you have any inquiries, schedule an appointment online with one of our representatives and we will contact you as soon as possible.